CELTICA -Unplugged Trio: "Whiskey in the Jar", teaser
CELTICA -Unplugged Trio: "Granuaile" 1st official video
CELTICA -Unplugged Trio: Granuaile (Teaser)
CELTICA -Unplugged Trio (Teaser)
1st live video in 2020: Live at Triskell! (Official video)
Ready for Toulouse!
Mille Grazie Trieste!
Duncan back at Vienna!
Celtic Spirits-stage banner has arrived!
Exploring locations for the next video-shooting…
Celtic Spirits: Top in Belgium!
Celtica now also on Instagram!
New Celtic Spirits-stage banner!
Visiting Friends 04: Skiltron!
New official facebook-page!
Official facebook-page locked!
"Visiting Friends" 02: Jane Espie, the Phantom Piper!
"Visiting Friends" 01: Paddy Murphy!
Celtica are "Visiting Friends"!
Facebook: more than 2000 followers!
"Celtic Spirits" on the way to the US & Canada!
"Celtic Spirits" T-shirts, Girlies and Tank Tops available!
Web shop Tutorial
Celtic Spirits for the Village Voices
Celtic Spirits: CDs arrived!
Celtic Spirits: Teaser
Celtic Spirits: Order now at our webshop!
Celtic Spirits order start on Wed. April 29th!
Celtic Spirits: Mix down finished!
Jigging on the Rocks – new video
1st Drum Recording for "Celtic Spirits"!
Mumbai!!!
New official video: A Sinister Romance, Live at Toulouse 2020!
Nov. 5th 2020: As due to the Corona-pandemic all our shows in 2002 got cancelled , we were very happy, that at least 2 festivals still were up. The last of these 2 concerts in 2020 was a club-gig at Toulouse, France, as the main festival was cancelled 2 weeks before the date. And even this down sized show was uncertain till the very day. When we finally went on stage, all energy, emotions and passion exploded at this very intense show on October 11th 2020…!
"A Sinister Romance", Live at Toulouse, Oct. 11th 2020 (Official teaser)
Nov.1st 2020:Oct. 11th: Due to the Corona-pandemic, our last concert of only two in 2020. All energy, emotions and passion explode at our show at Toulouse, France! The full video of "A Sinister Romance" will be released on Nov. 5th, stay tuned!
Merci beaucoup, Toulouse!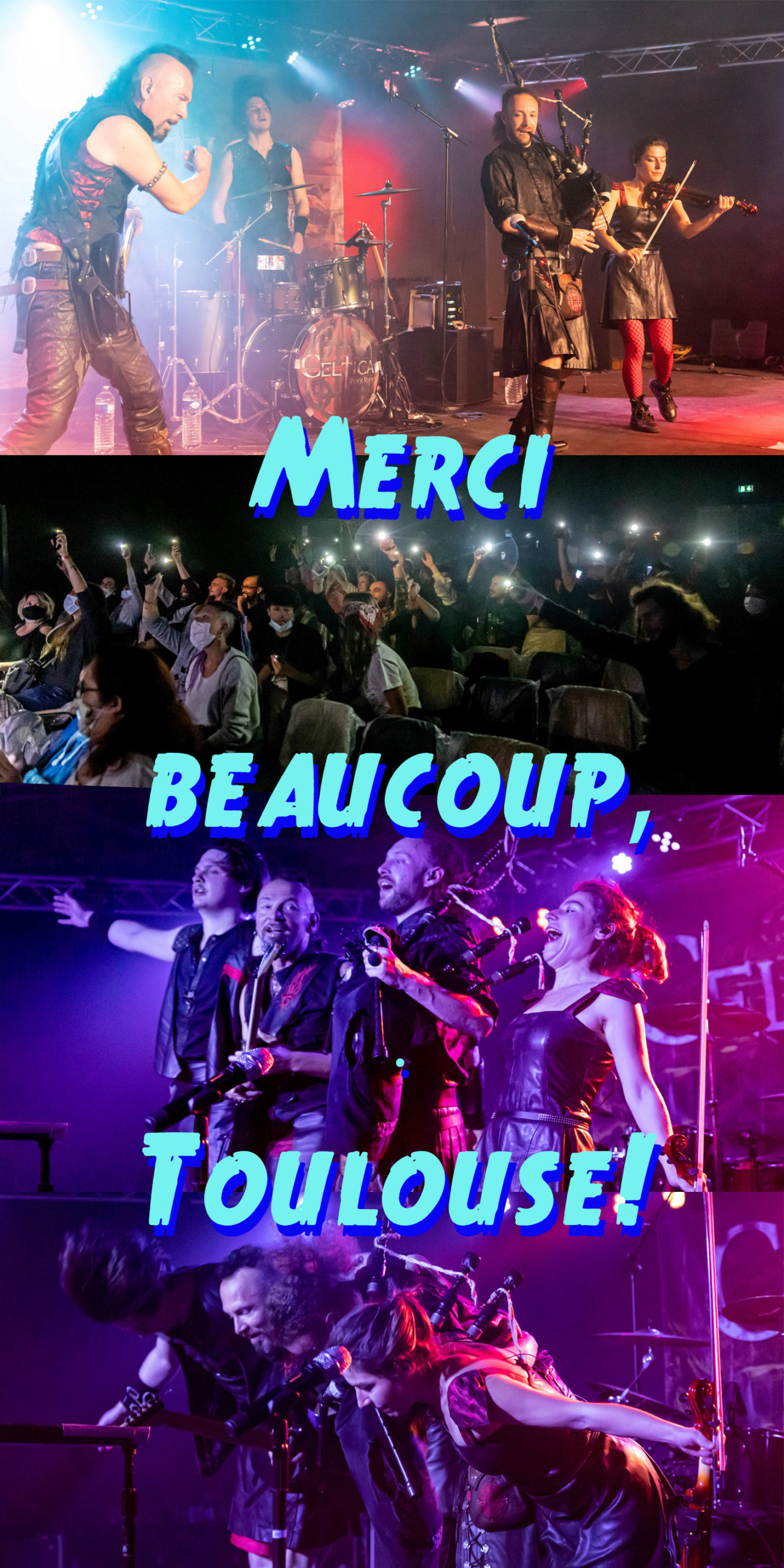 Oct. 13th 2020: It was wonderful to rock the stage again! Though under strict Covid-preventive measures, it made everybody feel "normal" for a while, we could see your smiling faces behind the Corona-masks. A very special thank you to Esther Gisserot, who made something happen that was close to impossible! We are looking forward to seeing you again when the pandemic is over! Stay safe and healthy!
Pictures by Christian Audiau.
Ready to rrrock Trieste!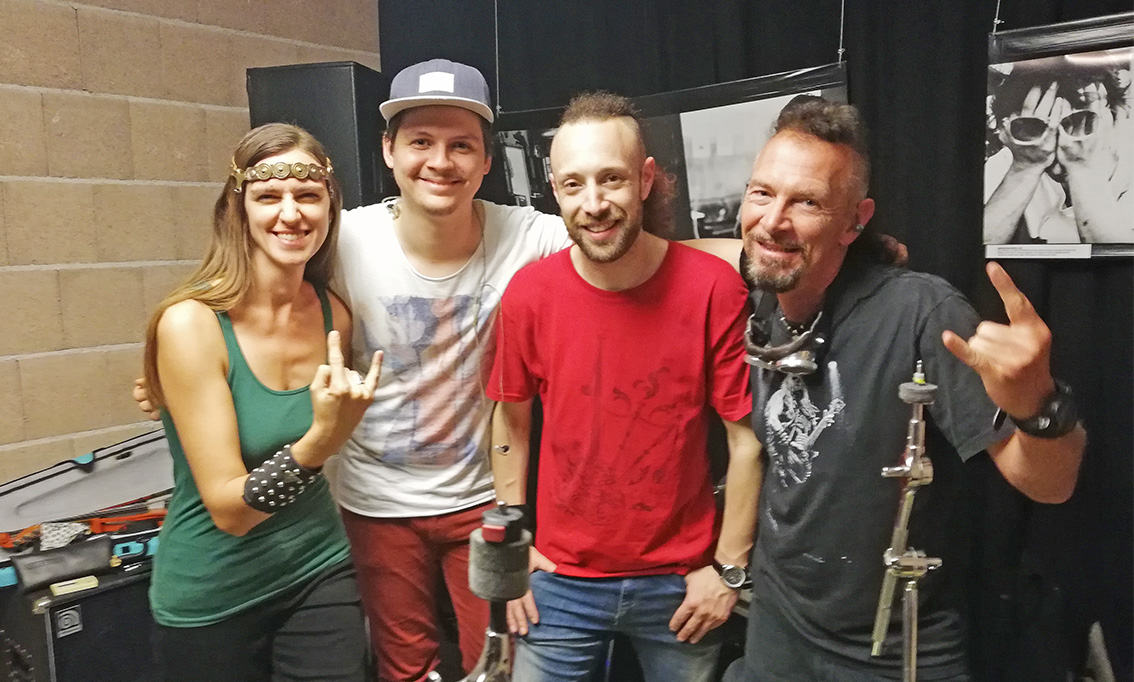 Sept. 25th 2020: Ready to rrrrock Triskell at Triest/ Italy! After intense rehearsals we are absolutely hot to rock the stage at Triest…! CU tomorrow!
Alternative concert at Toulouse!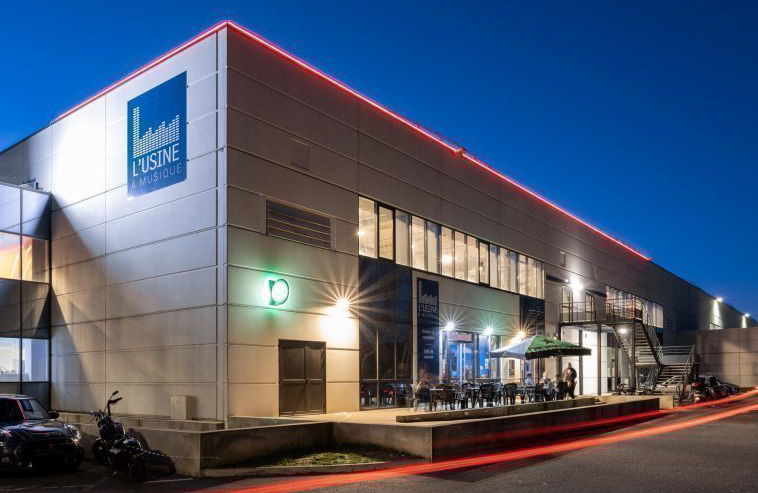 Sept. 10th 2020: As compensation for the postponed Graalfest we will play a concert "Graalfest OFF" at the l'Usine à Musique at Toulouse on the same weekend (oct. 10th+11th)! The exact day will be announced soon. It looks good at the moment that we still will come to France in 2020…!
Also Graalfest postponed to 2021!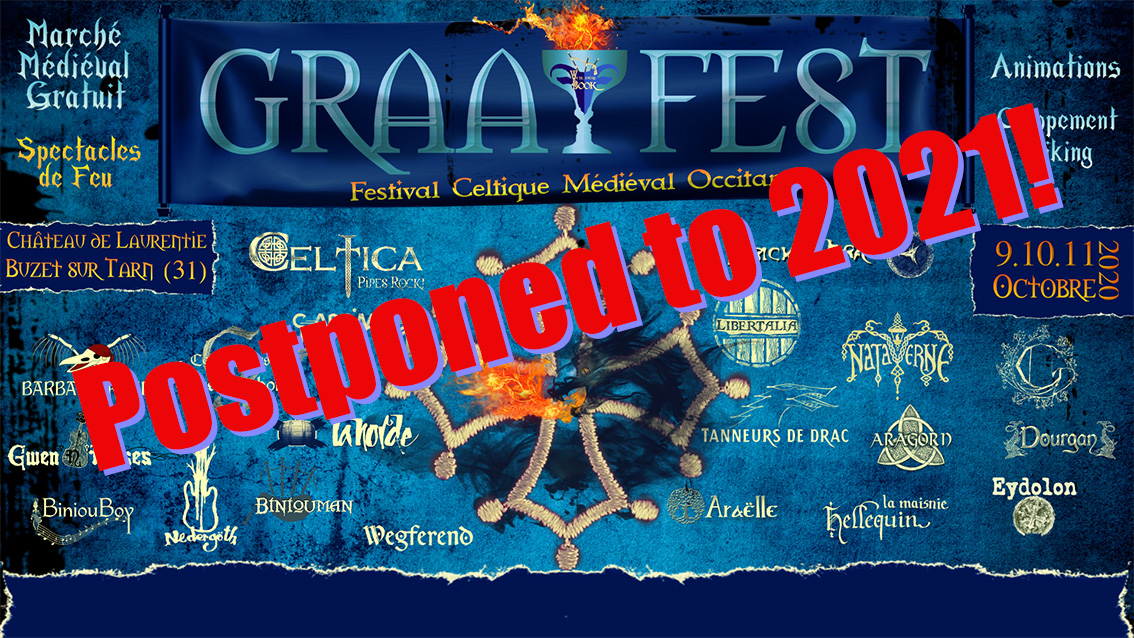 Sept. 8th 2020: The increasing Corona-infections in France forced the promoter to postpone Graalfest to next year. Now we have left only1(!!) concert in 2020: at Trieste/ Italy in less than 2 weeks, on Sept. 26th. The preparations are the same for 50, 10 or just 1 concert – we want to bring a "perfect" show on stage, and we will film at least parts of this performance for music videos. We don´t know the exact situation and the specific Corona-restríctions, but one thing is absolutely sure: It will be a very, very special show for us…
Interview for Graalfest
Aug. 18th 2020: This interview was filmed already end of May 2020. In the meantime the Corona-crisis has caused many changes. We are very sad, that Covid-19 has delayed some important administrative processes that made it impossible for Ernesto to play with us at Graalfest. We still show you the interview so you can see, how much we all are looking forward to play this festival, and you might understand better how it feels for an artist when he finally can´t participate… But the good news is, that Aya Georgieva will play with us at Graalfest!
Visiting Friends 06: Hawaii Irish Dance!
Aug. 6th 2020: Hawaii, the paradise in the Pacific! Wonderful beaches, palm trees, surfer on incredible waves, pine apple, gentle music…And pubs, bagpipes and Irish Dance! Aloha and welcome to Visiting Friends episode 6 with Hawaii Irish Dance!
Visiting Friends 05: Ye Banish Privateers!
The Swedish pirate-band takes us 300 years back in time for an imaginary journey through the harsh life at sea during the early 18th century. The mix of rude folk and punk music invites you to dance and sing along, while the gripping ballads will make the toughest pirate heart soft.
Visiting Friends 03: BarbarÒ`Rhum!
"Visiting Friends" is a serial of interviews with musicians and bands we know personally from touring. This is the 3rd  episode, featuring Barbar`O`Rhum, Pirate-band from France. Please tell for the next episodes, what questions you want us to ask, and what you would like to know about an artist.
New music video: Granuaile, Live at Mumbai/ India!
Here is a really remarkable live video, filmed at our performance at Mood Indigo, Asia´s largest cultural college festival, on December 26th 2019. This concert was pretty unique: It was the 1st Celtica-show ever in Asia, it was the 1st time in new line up, most likely the last live-performance of Celtica till  October 2020,  the only gig with Geza Frank – and one of the best audiences we ever had! Enjoy the colours of India, the enthusiastic audience and at the very end some crazy scenes, when we walked through some busy streets of Mumbai, fully dressed in stage outfit, with bagpipes… a bit "Celtic Bollywood" 😉 "Granuaile" is released on the new album "Celtic Spirits", available at https://celticarocks.com/shop
People from all over the world about "Celtic Spirits"
Would you really believe us, if we tell you how great our new album "Celtic Spirit" is…? So we have asked people from all over the world for their opinion…
Aloha: Jigging on the Hawaiian Rocks!
Wow: Right now we just got from our friends on Hawaii this absolutely amazing video! Conducted by the brilliant Lynn Scully the Hawaii Irish Dancers dance to Jigging on the Rock from our new album "Celtic Spirits": Great dancing, many good friends, who participate, and the terrific landscape of Hawaii: This video brings sunshine and lust of life directly from the Pacific Ocean…Thank you so much for this cheering greetings!
TV-Interview CitySOUNDS
Nice interview with Gajus at the private station WNTV, he talks also about the "sectret of the Celtica success". Sorry, only in German…
New video: Atholl Highlanders, Home office version
We made this little video to give all our fans and friends an impression of Celtica at home office as our live performances got cancelled due to Corona-restrictions all over the world…Pleae find it on this website at "Video". The full version of "Atholl Highlanders" will be released on the upcoming album "Celtic Spirits", in May 2020! Stay safe, healthy and confident – we are looking forward to see you all again when this Corona-madness is over! 🙂
Introducing Ernesto Góngora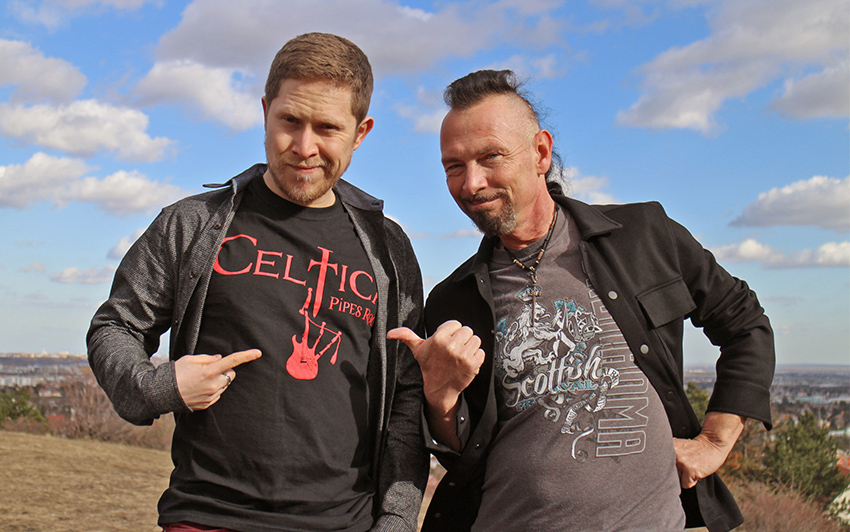 We are very happy to introduce Ernesto Góngora as the new 2nd piper of Celtica! Ernesto is an incredible bag piper playing with amazing sound, stunning perfection and –most important!- impressive musicality. Being Mexican citizen, he is the first bagpiper from Mexico, Central- and South America to win the All Ireland Solos Championship in Dublin. Gajus, after recording with Ernesto bagpipe, flute and whistles for the upcoming album "Celtic Spirits" : "Working with Ernesto was one of the most creative and satisfying experiences in my whole life. I´m very thankful and glad about the music we created, and I can´t wait to perform with Ernesto as a new band member the Celtic Spirits- show live on stage!"
New Celtic Spirits-design for the Celtica-logo

Like in the previous years, the well established Celtica-logo gets adapted to the current album and live show. The new "Celtic Spirits"-design attracts attention by the large celtic knot in the capital letter and the Celtica ornaments on the t-sword. Iron, recognisable by the rusty spots, reflects the extremely durable iron the Celts made for their swords, and which was highly coveted by the Romans(!). Musically the title "Ferrum Noricum" on the new album refers to that as well.
Thank you, Mumbai!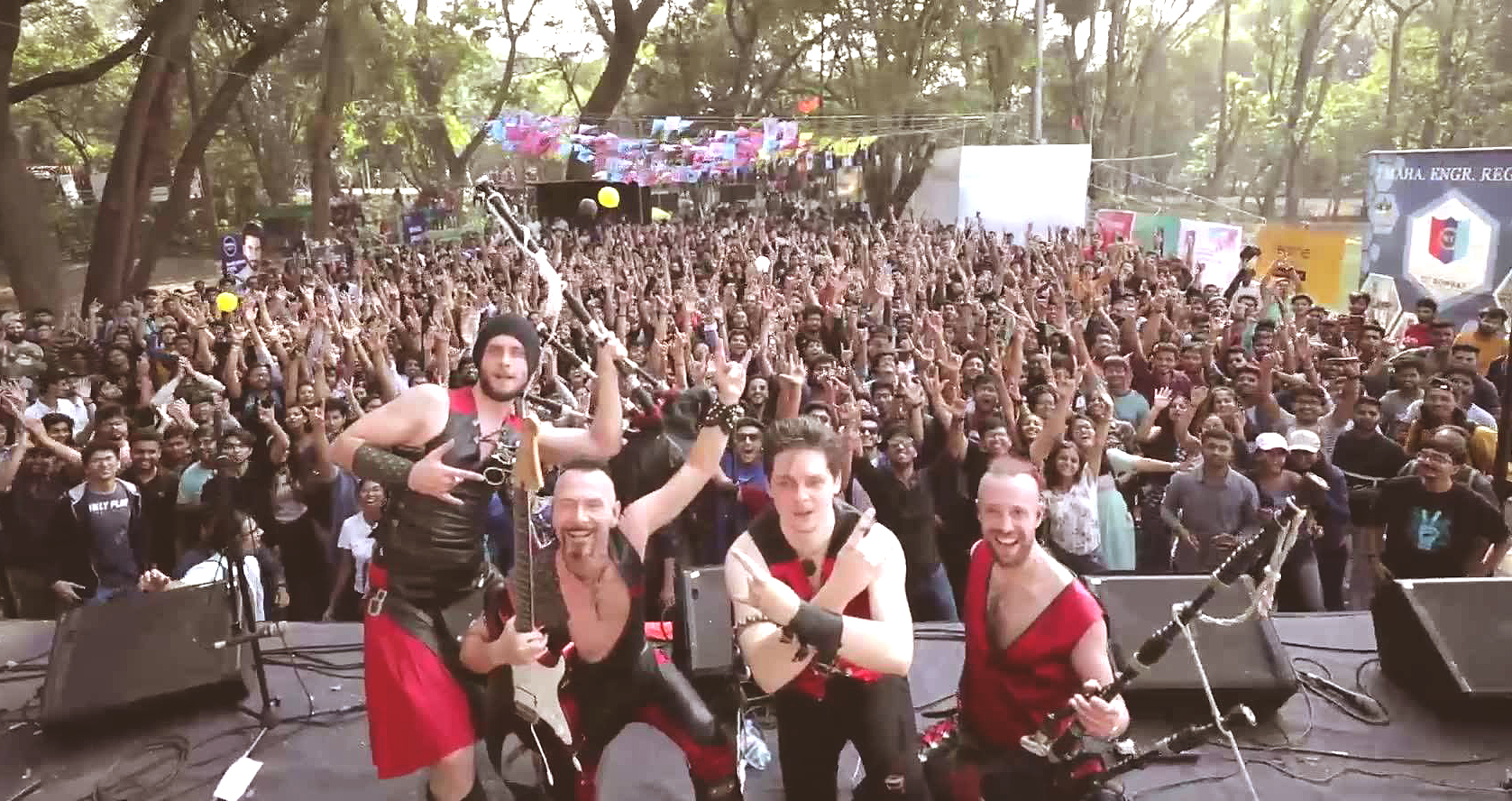 What an adventure, what an experience! We really enjoyed our 1st show ever in Mumbai/ India/ Asia! Hopefully soon some pictures, and also the full video, that we shot at Mumbai for the 1st tune of "Celtic Spirits" (we don´t even have a name yet, but we played it at Moody…
😉 should be ready in 3-4 weeks…stay tuned!
Peter has gone.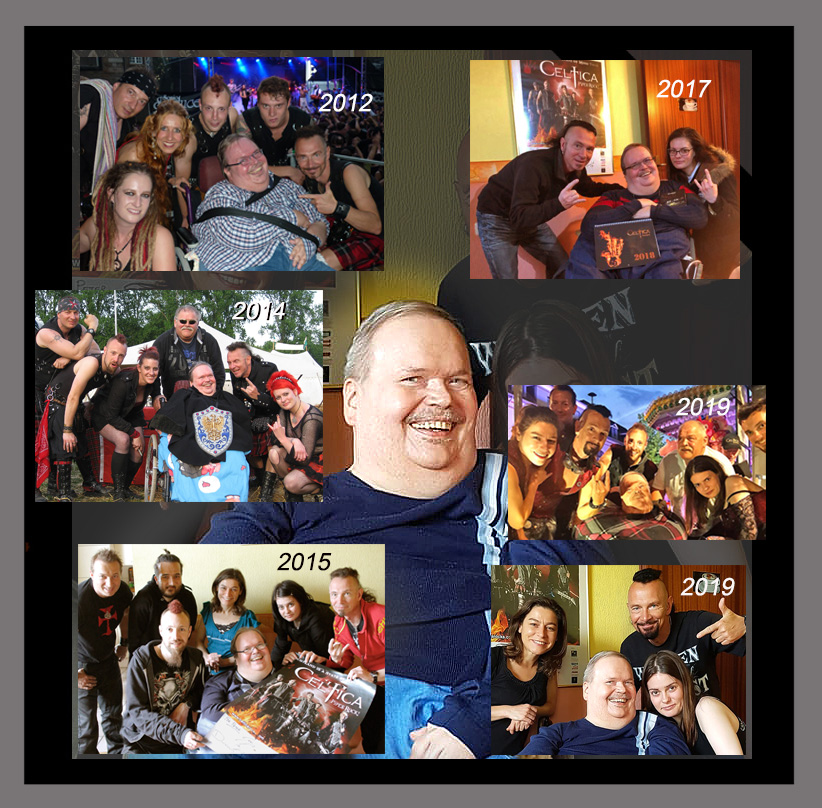 We met Peter, an absolute avid Celtica-fan, the 1st time in 2012 after our concert, and since than  we were over all the years in contact till the end. Our first emotion was compassion with his fate,  but once we got to know him a bit better it soon turned into admiration and friendship. It was impressive indeed to see how his brilliant mind handled it to be prisoned in an invalid body. In his last eMail from begin of January he had so many plans, e.g. how to help to make Celtica more popular in Germany, and he was looking forward to hear the new album and to meet "his group" at the next concert. 11 days ago he was brought to the hospital because of pneumonia, but just 4 days ago there was an unexpected serious problem with his heart. Mentally fully aware he suddenly had to face his soon death. He wanted to fight for his life and rejected morphine for a long time. He was listening to the music of Celtica till the end as it gave him comfort and confidence. Against all medical prognosis he survived another night, and so it was possible for me to tell him a few words on the phone. Soon after that his body lost the fight, and on Saturday around 2:30am he passed away. We are left behind in disbelief and grieve with the members of his family for an outstanding person.
Great Recordings with The Village Voices!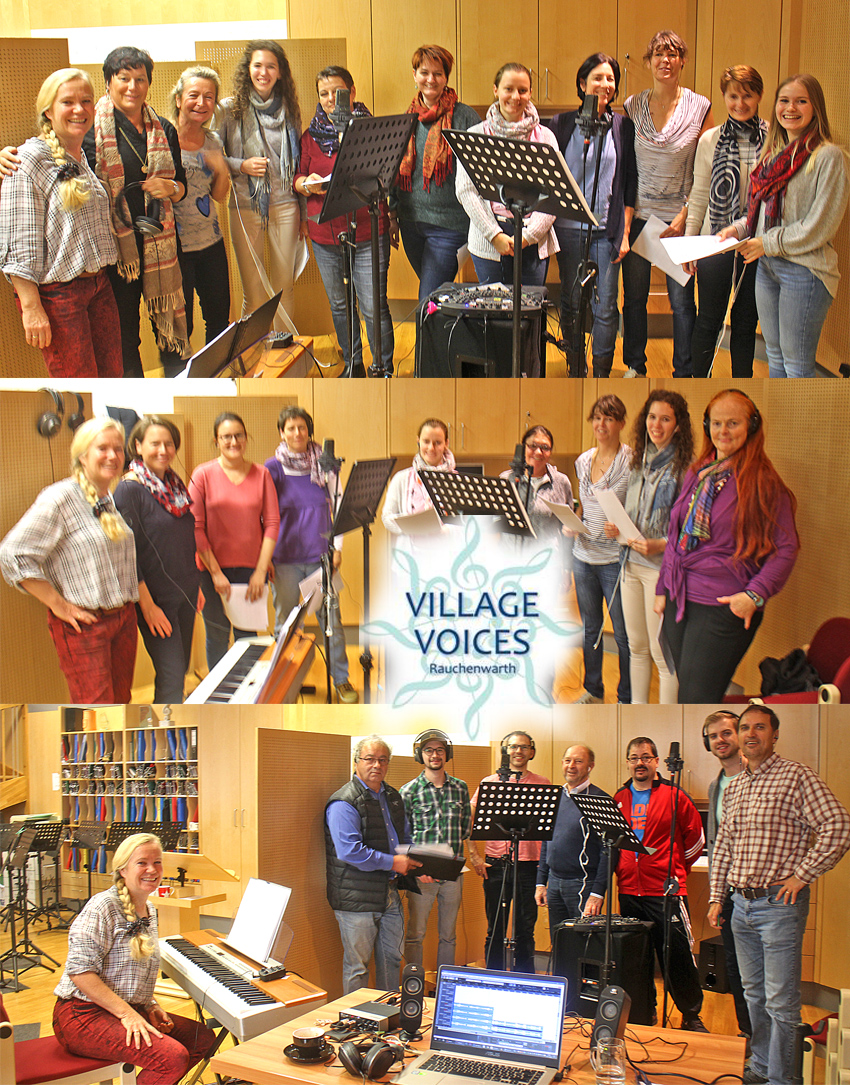 Thanks to Village Voices for great recordings! A big thank you to all the singers of the Village Voices and especially to their conductor Andrea Wiesinger for the amazing recording session last Saturday. Within 8 hours we created amazing choirs for the upcoming Album "Celtic Spirits"…
Brand new "old"Facebook-page online again: Please "Like"!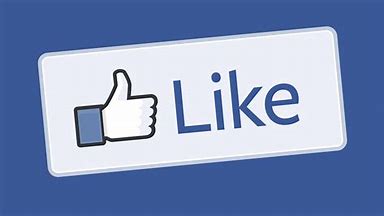 After a short interruption the previous Facebook-page "Celtica – Pipes rock" is online again – but without the old contents and without the old likes (both has moved to the new Celtica-US-FB-page). Please like us (again) as having already over 25.000 likes we have to start it from the scratch again…Thank you for your support/ likes!