People from all over the world about "Celtic Spirits"
Would you really believe us, if we tell you how great our new album "Celtic Spirit" is…? So we have asked people from all over the world for their opinion…
Web shop Tutorial
In the internet, there are all kind of video-tutorials, so here is also one "How to buy Celtic Spirits at the band´s web shop". Thank you, Nicolas O., from Vienna, Austria, for clear and easy instructions! 😉
Celtic Spirits for the Village Voices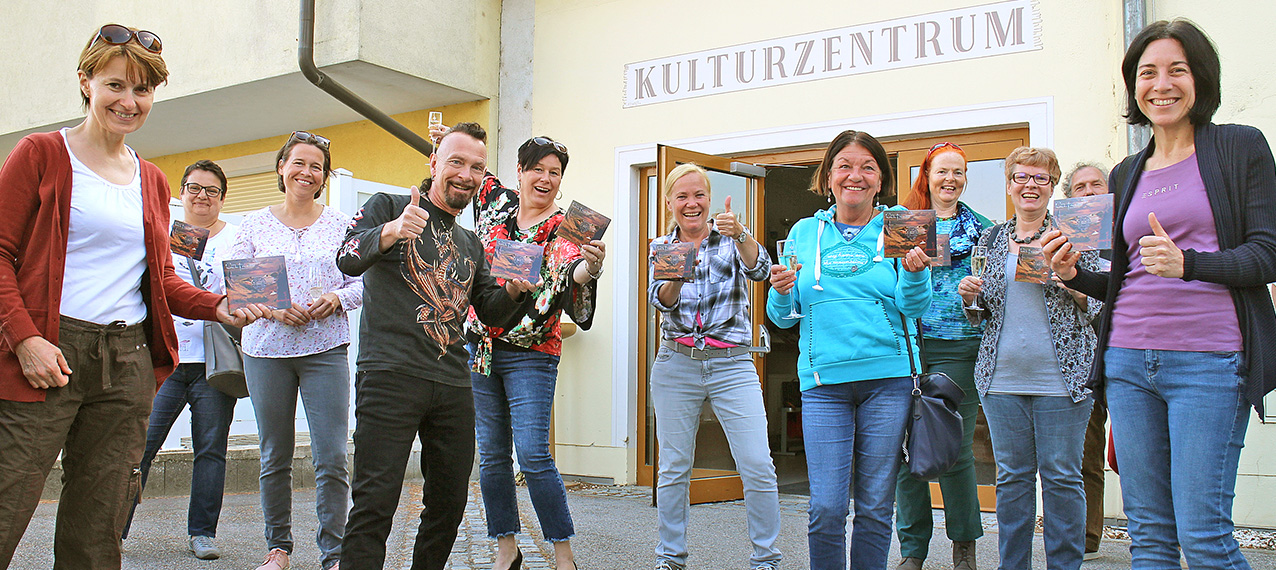 It was a pleasure and a honour to present the singers of the Village Voices their personal copies of Celtic Spirits. Conducted by Andrea Wiesinger, the choir made great recordings for this album. Of course, we respected all Corona restrictions like e.g. keeping distance at this "little party"! Support the band and purchase Celtic Spirits directly at the Celtica web shop: https://celticarocks.com/shop
Celtic Spirits: CDs arrived!
Today I got 3 large boxes with several hundred copies of Celtic Spirits! It was great, to hold the album the 1st time in my hands…In Germany, the orders on our web shop got sent already yesterday, all other  web shop-orders in Europe will go out like planned on  Monday May 18th. Unfortunately it is still not possible, to send any packages to the USA. The distribution in all other stores and platforms (Amazon, etc.) starts in June.
Celtic Spirits: Teaser
Celtic Spirits: Order now at our webshop!
Now you can buy Celtic Spirits directly at our webshop! There you will find all information about the album as well as sound samples of each tune. You will get the brand new album in digital version just a few minutes after you have paid by Paypal: We´ll send you your download-link for the whole album as high quality MP3s and wav-files. Our special Corona-offer: As compensation for the varying delivery times you will also get the download-link when you order the album as physical CD! In Europe we will ship your copy on May 18th, in the USA as soon as it is possible again. The distribution in all other stores and platforms (Amazon, etc.) starts in June.
Celtic Spirits order start on Wed. April 29th!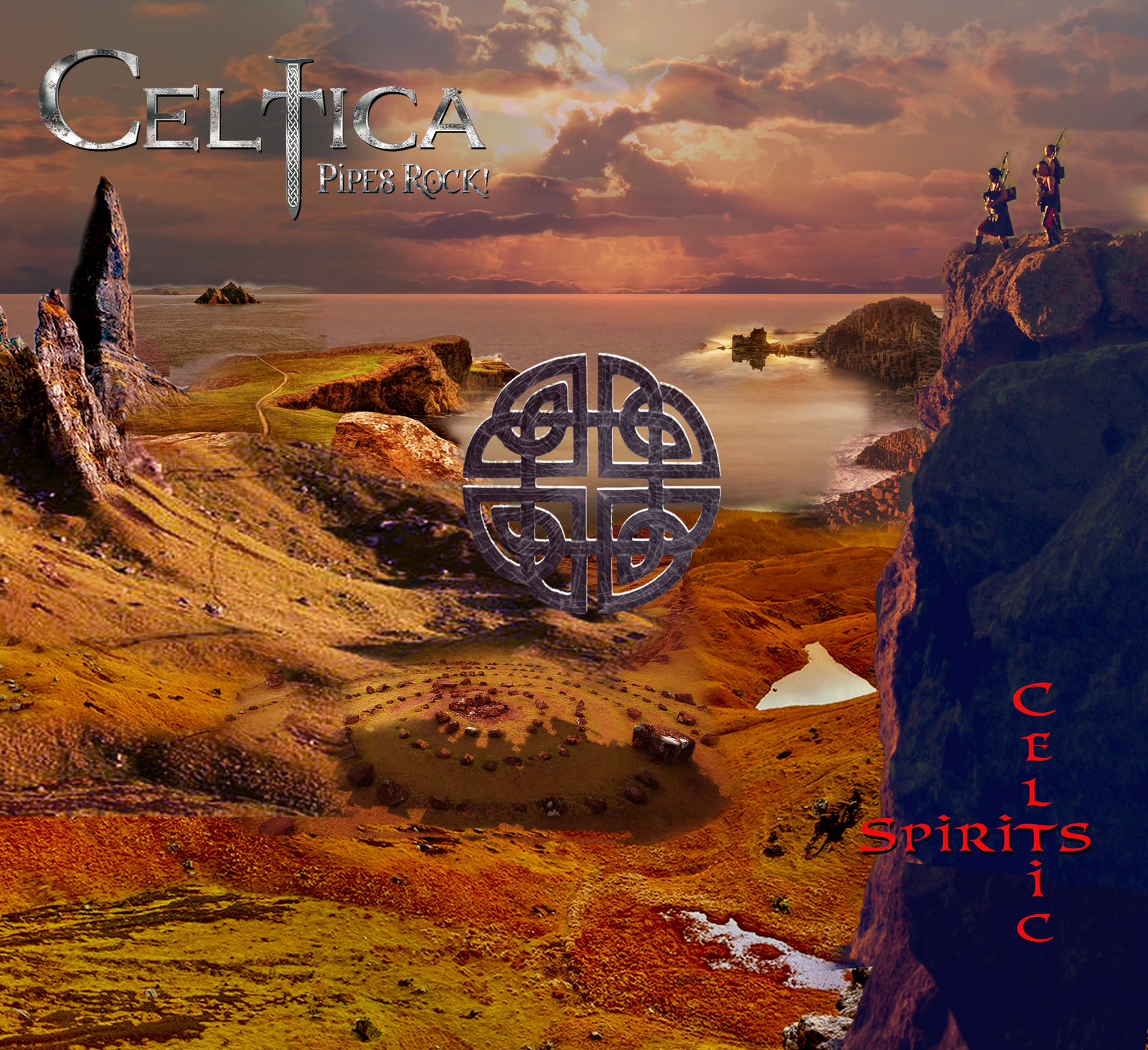 We work on a way, that you get the full album "Celtic Spirts" in digital form immediately when you order it to make up the due to Corona extended delivery times. Please we give us 2 days to sort out the technical problems till Wed. April 29th!
Celtic Spirits: Mix down finished!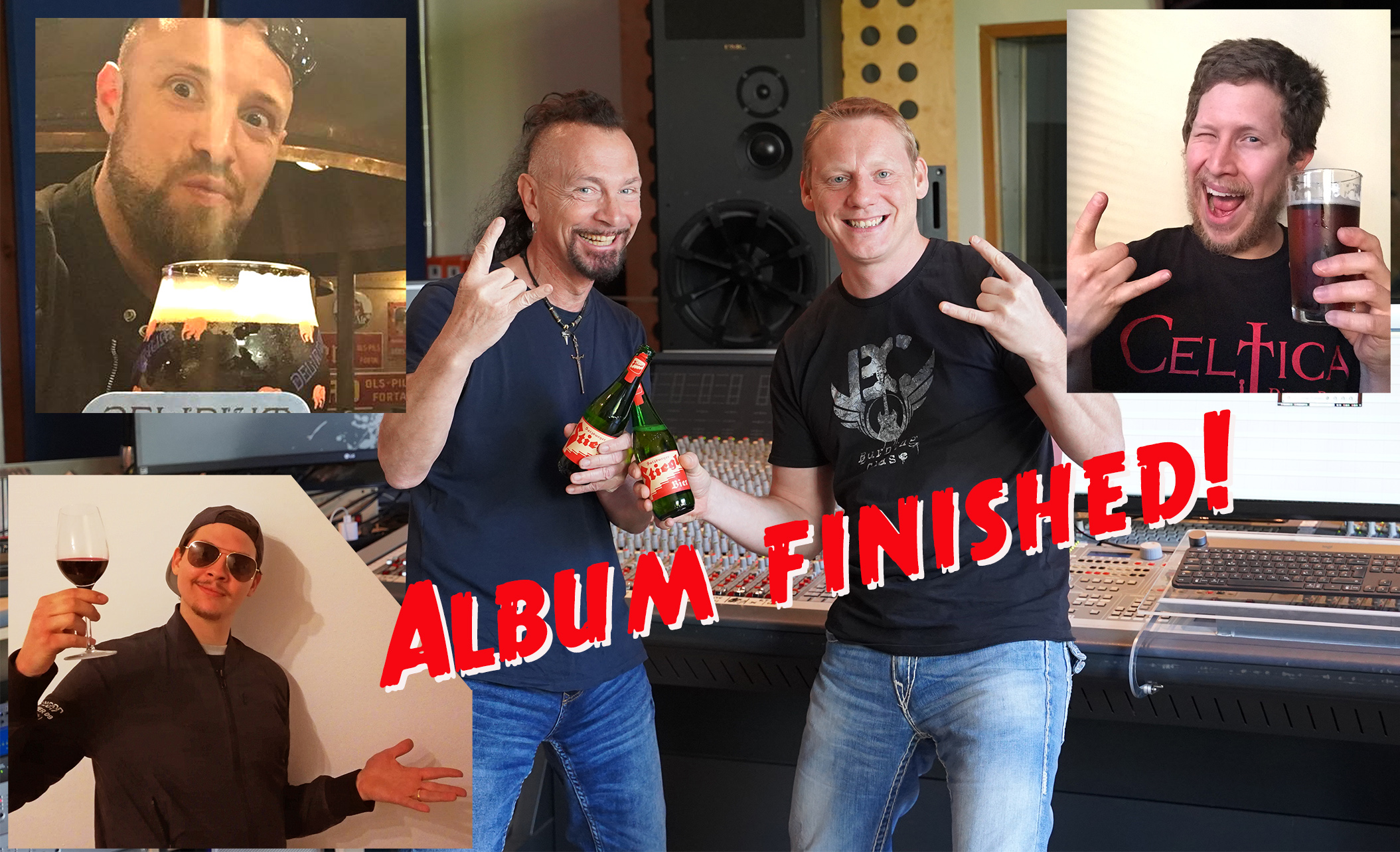 Today we finished the mix down of the brand new album "Celtic Spirits": We are very proud  and happy  as it sounds absolutely fantastic! After nearly a full year of preparations like collecting ideas and making the compositions, the actual recordings, arrangements and mix down took more than six, very intense months. Due to the Corona-crisis the last weeks got more complicated, but right now the 13 tracks get the last technical fine tuning. As soon as the CD-pressing plant  has got all files they´ll tell us the exact date, when we will get the 1st copies. Within the next days we´ll announce when and how you can pre-order "Celtic Spirits": Be the 1st to get it! 😉
Jigging on the Rocks – new video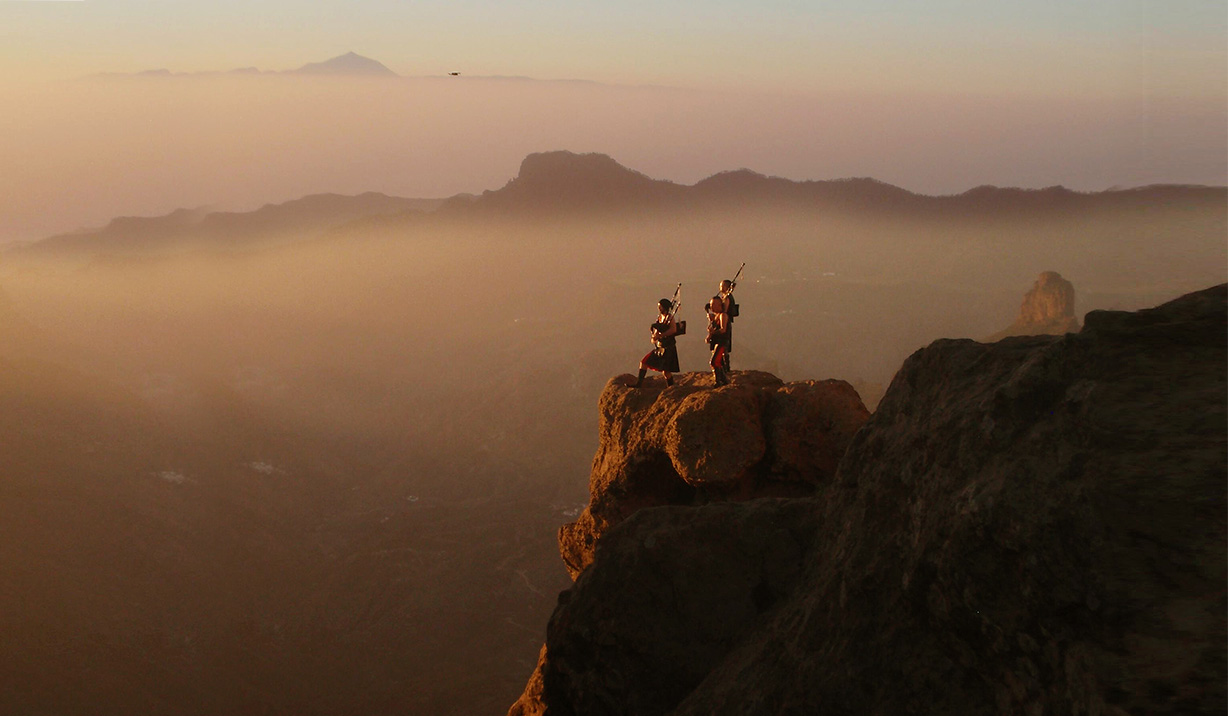 Just a quick video for "Jigging on the Rocks", one of the tunes from the new Celtica-album "Celtic Spirits" (release spring 2020). When I, Gajus, was on Gran Canaria already some years ago, I thought that Roque (=Rock) Nublo is a spectacular place for a video-shooting – and now we could film some scenes up there! So Rock Nublo is the reference for the title, but also "Whisky on the Rocks" was an influence…;-) Please go to "Videos"…
1st Drum Recording for "Celtic Spirits"!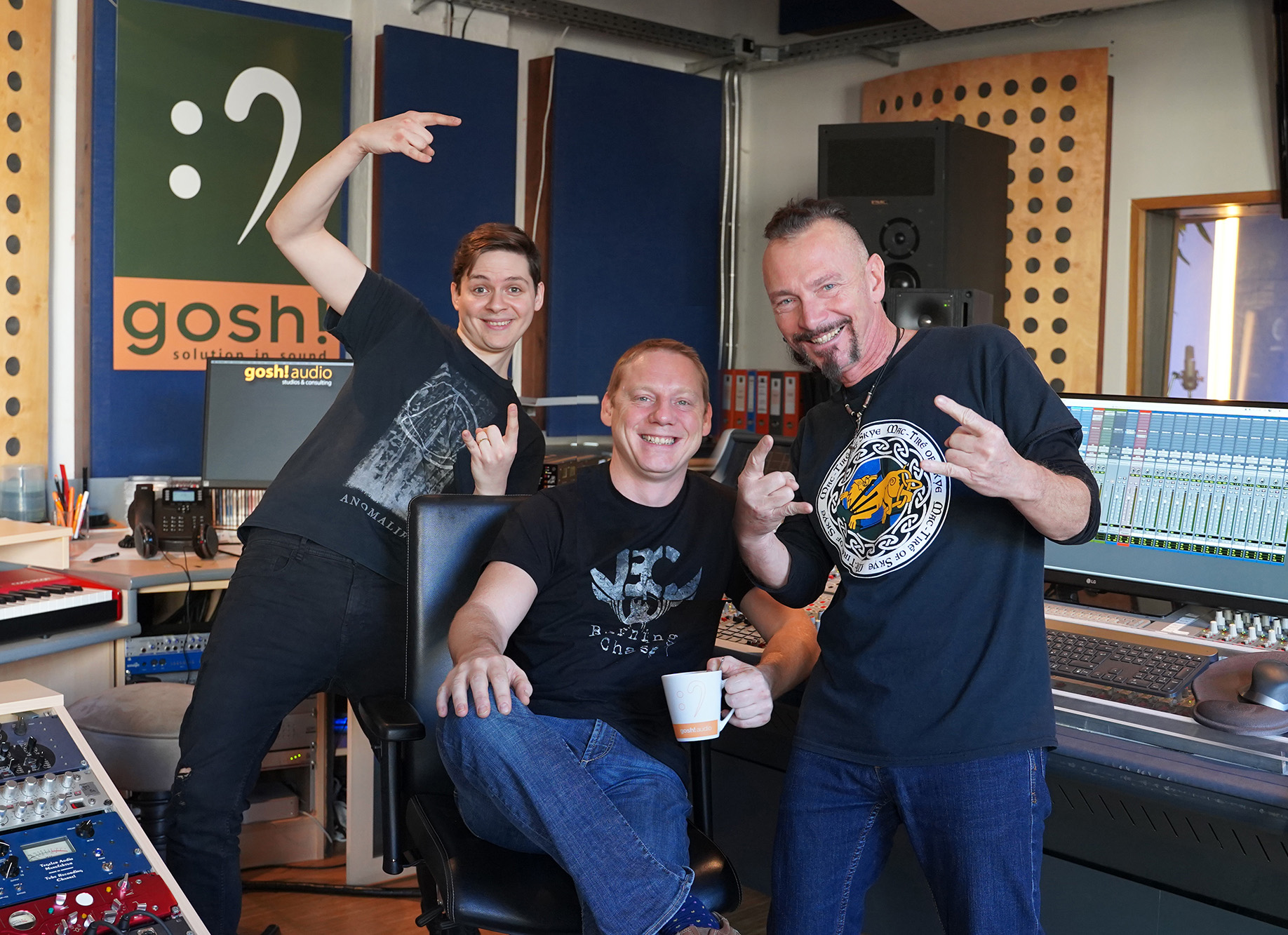 For the first of two drums-recording sessions for the upcoming Celtica-album "Celtic Spirits" the top notch studio gosh-Audio was booked again. The sensational team around Stefan Kolber, with Tom Goethe at the sound controls created once more a world class drum-sound. Lukas Schlintl was the 1st time at a recording studio the drummer of Celtica: a truely awesome drummer with a perfect combination of feeling, power and perfection! Picture by Diana Makalova
Mumbai!!!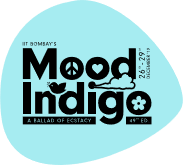 Exactly 10 years after our start in the pretty much very (wild) West at Phoenix, Arizona, Celtica got invited to the very East: We are very excited to perform at Asia's largest college cultural Festival, in Mumbai, India, on Dec. 26th! We will make a road movie of this outstanding tour, so please have a look on our website and YouTube at end of December… Namaste! https://www.facebook.com/iitb.moodindigo/
Aloha: Jigging on the Hawaiian Rocks!
Wow: Right now we just got from our friends on Hawaii this absolutely amazing video! Conducted by the brilliant Lynn Scully the Hawaii Irish Dancers dance to Jigging on the Rock from our new album "Celtic Spirits": Great dancing, many good friends, who participate, and the terrific landscape of Hawaii: This video brings sunshine and lust of life directly from the Pacific Ocean…Thank you so much for this cheering greetings!
TV-Interview CitySOUNDS
Nice interview with Gajus at the private station WNTV, he talks also about the "sectret of the Celtica success". Sorry, only in German…
New video: Atholl Highlanders, Home office version
We made this little video to give all our fans and friends an impression of Celtica at home office as our live performances got cancelled due to Corona-restrictions all over the world…Pleae find it on this website at "Video". The full version of "Atholl Highlanders" will be released on the upcoming album "Celtic Spirits", in May 2020! Stay safe, healthy and confident – we are looking forward to see you all again when this Corona-madness is over! 🙂
Introducing Ernesto Góngora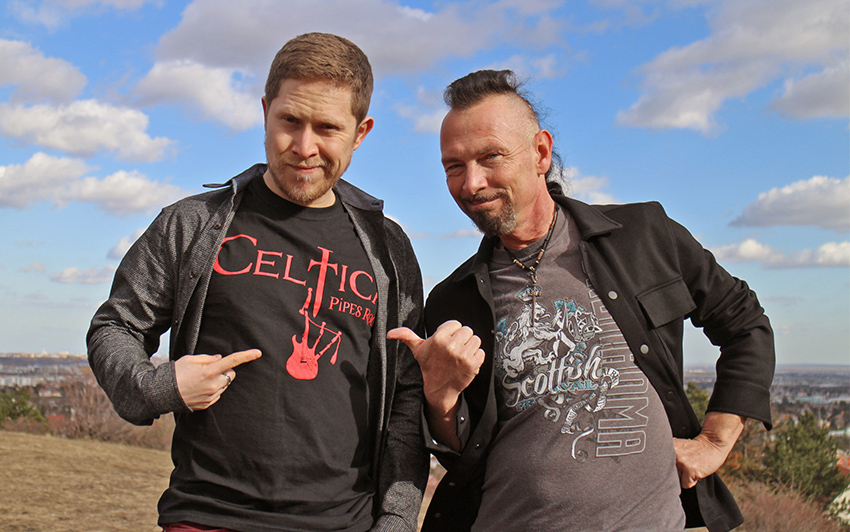 We are very happy to introduce Ernesto Góngora as the new 2nd piper of Celtica! Ernesto is an incredible bag piper playing with amazing sound, stunning perfection and –most important!- impressive musicality. Being Mexican citizen, he is the first bagpiper from Mexico, Central- and South America to win the All Ireland Solos Championship in Dublin. Gajus, after recording with Ernesto bagpipe, flute and whistles for the upcoming album "Celtic Spirits" : "Working with Ernesto was one of the most creative and satisfying experiences in my whole life. I´m very thankful and glad about the music we created, and I can´t wait to perform with Ernesto as a new band member the Celtic Spirits- show live on stage!"
New Celtic Spirits-design for the Celtica-logo

Like in the previous years, the well established Celtica-logo gets adapted to the current album and live show. The new "Celtic Spirits"-design attracts attention by the large celtic knot in the capital letter and the Celtica ornaments on the t-sword. Iron, recognisable by the rusty spots, reflects the extremely durable iron the Celts made for their swords, and which was highly coveted by the Romans(!). Musically the title "Ferrum Noricum" on the new album refers to that as well.
Thank you, Mumbai!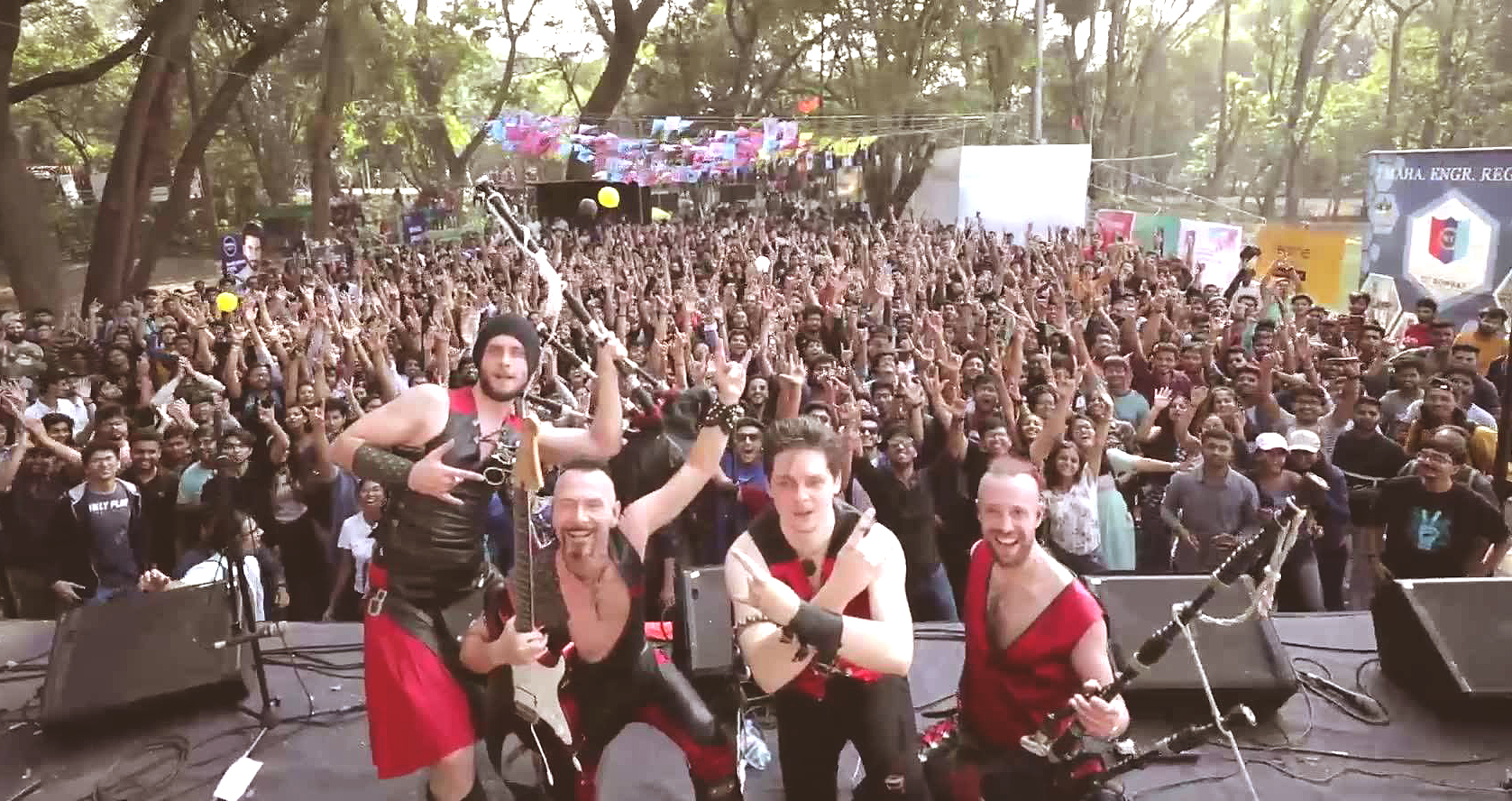 What an adventure, what an experience! We really enjoyed our 1st show ever in Mumbai/ India/ Asia! Hopefully soon some pictures, and also the full video, that we shot at Mumbai for the 1st tune of "Celtic Spirits" (we don´t even have a name yet, but we played it at Moody…
😉 should be ready in 3-4 weeks…stay tuned!
Peter has gone.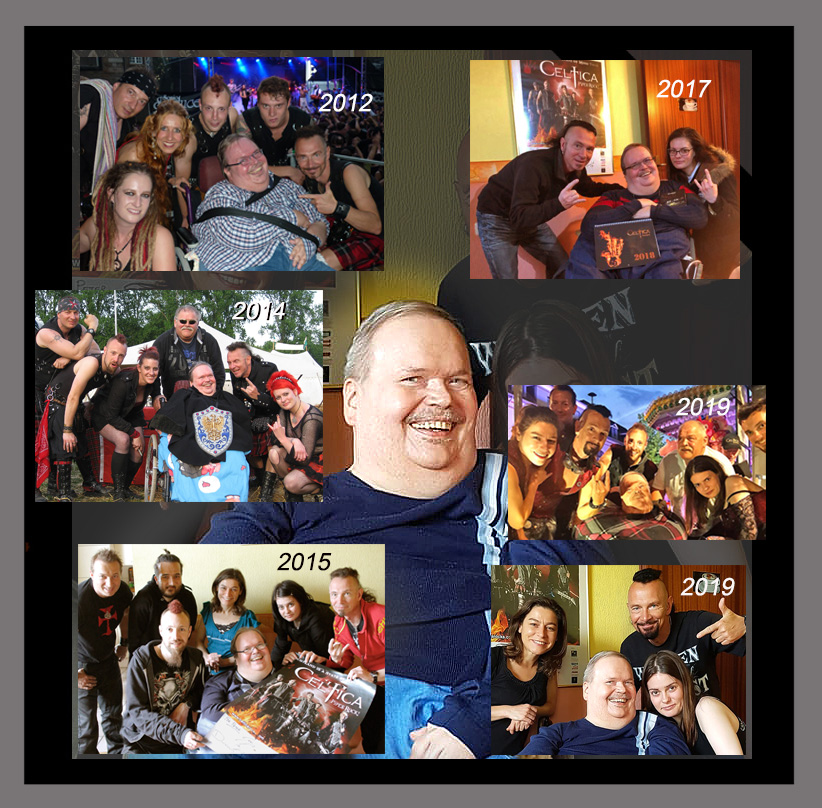 We met Peter, an absolute avid Celtica-fan, the 1st time in 2012 after our concert, and since than  we were over all the years in contact till the end. Our first emotion was compassion with his fate,  but once we got to know him a bit better it soon turned into admiration and friendship. It was impressive indeed to see how his brilliant mind handled it to be prisoned in an invalid body. In his last eMail from begin of January he had so many plans, e.g. how to help to make Celtica more popular in Germany, and he was looking forward to hear the new album and to meet "his group" at the next concert. 11 days ago he was brought to the hospital because of pneumonia, but just 4 days ago there was an unexpected serious problem with his heart. Mentally fully aware he suddenly had to face his soon death. He wanted to fight for his life and rejected morphine for a long time. He was listening to the music of Celtica till the end as it gave him comfort and confidence. Against all medical prognosis he survived another night, and so it was possible for me to tell him a few words on the phone. Soon after that his body lost the fight, and on Saturday around 2:30am he passed away. We are left behind in disbelief and grieve with the members of his family for an outstanding person.
Great Recordings with The Village Voices!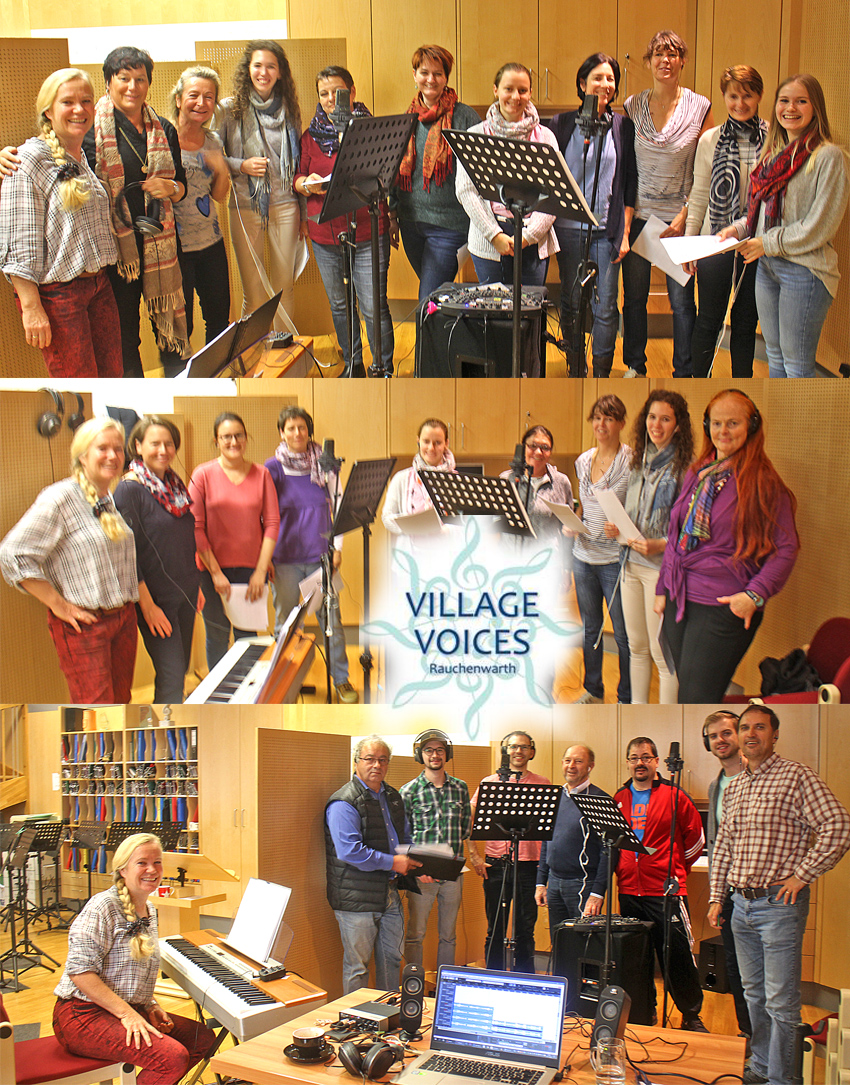 Thanks to Village Voices for great recordings! A big thank you to all the singers of the Village Voices and especially to their conductor Andrea Wiesinger for the amazing recording session last Saturday. Within 8 hours we created amazing choirs for the upcoming Album "Celtic Spirits"…
Brand new "old"Facebook-page online again: Please "Like"!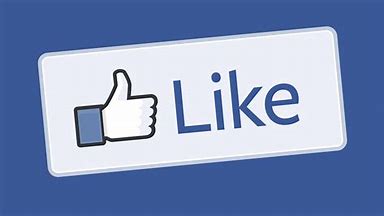 After a short interruption the previous Facebook-page "Celtica – Pipes rock" is online again – but without the old contents and without the old likes (both has moved to the new Celtica-US-FB-page). Please like us (again) as having already over 25.000 likes we have to start it from the scratch again…Thank you for your support/ likes!